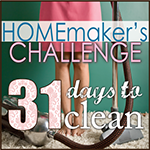 Hope all you moms had a great Mother's Day!
Today I want to talk about a great Book I'm reading called "31 Days to Clean – Having a Martha House the Mary Way" by Sarah Mae.
Christin from Joyful Mothering is the one who is challenging moms to join this journey. I like what she says in her blog…."this journey is much more than just cleaning house. We're going to declutter some junk from our hearts and dust off that motivation that's been sitting on the shelf."
In the bible Mary was the one who wanted to sit at the feet of Jesus and just spend time with Him. Mary was all about relationships. Martha was the busy bee, getting things accomplished and all about tasks.
In my past I have always been more of a Mary- wanting to take it easy and relate to people, spend time with God and letting those pesky tasks take a back seat.As a mom I have really had to be more intentional about getting things done around the house. I do like having things organized yet somehow the daily tasks of maintaining the home to a certain level seems to be slacking.
I am hoping through reading this book and taking on the daily challenges that I will learn now to balance out being a Mary and a Martha. I'm a little behind in my reading and daily accomplishments for this book but I am enjoying catching up and doing the tasks that are mentioned in the book.
I'll be sharing more about this as I go through the book.