Well I can hardly believe my little babies will be starting Kindergarten in a few weeks! Where did the time go from them being cute little babies to gigantic 5 year olds???
I still see them like this: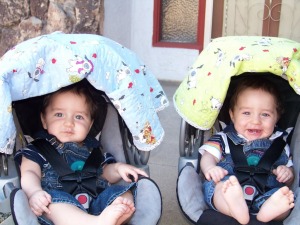 Caden (L) Dylan (R)
When in reality they're more like this:
Dylan (L) Caden (R)
This summer I had the boys stay home with me instead of going to extended school year. I have to admit I am looking forward to them getting back to school and giving these guys some more structure to their days.  They've been driving me nuts most of the summer but I see the light at the end of the tunnel.
We've been without a family car for a few months so a majority of this summer has been spent with me going out on foot with the boys to run errands in our handy dandy double stroller.  Most days have been pretty tolerable and even a great breeze. The last week or so though has been gross hot and humid. The bright side to it all is that it's been great exercise for this mama and I've lost about 15-20 lbs. I can feel it in my clothes and have been happily been able to fit in some of my old clothes.
Overall summer has been good for not having a car to drive around in. The boys have been having ABA session at home for 2 hours each day with their awesome therapist. It's been good to have some type of structure/normal like that. They also have exploded with a love for drawing, writing their alphabet, and pretend play. We have found that these activities have really helped them develop their language. Even in just using chalk outside the boys like to talk about what their drawing and even pretend.  So they'll draw a school bus and then talk about putting on their seat belts, saying goodbye to mommy and going to school. These are big breakthroughs for them.  There are a lot of kids on the spectrum who have a hard time with make believe play…it has to be taught most times and doesn't always come natural.
On the parenting front I have been experiencing challenges with the boys over some of their obsessive type behaviors (my observation not a professional's).  They love peeling stickers and labels off things…they like doing this so much that when we go grocery shopping I have to make sure they don't peel the labels of cans of food I purchase. Another thing that just about drove me over the cliff was their preoccupation with tearing corners of pages out of their books. Now just a heads up for those of you who are not familiar with my boys…although my boys are chronologically 5 they are developmentally/socially more like 2 or 3 in so many respects.  So although these behavior probably aren't the norm for 5 year olds, it's our reality right now.
I love my boys but when they start doing behaviors like destroying books, ripping things I have to really take a minute to not let me anger lead me in those moments. When I get angry, to the point of yelling it doesn't benefit any of us. I know they understand that I get mad and that I don't approve of what they're doing but yet they repeat the behavior.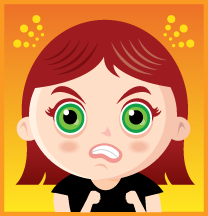 Ever have one of these days???
I'm working on ways I can redirect them and if it does happen again I try to calmly tell them that I don't like it and explain to them what the proper behavior looks like.
Unfortunately  I have had to put their books away from their reach and only bring them out when I or my husband can supervise them.  For peeling labels/stickers stuff I have given them a box of old junk mail they can rip and sticker-books they can peel.
Well if you would say a few prayers for this mom so she makes it through the remaining weeks of summer.  It's been long but I am so very thankful for God grace and strength that has helped us.
Feels good to share with you all, it's been much to long! Hope you all are having a great summer and making lots of great memories.