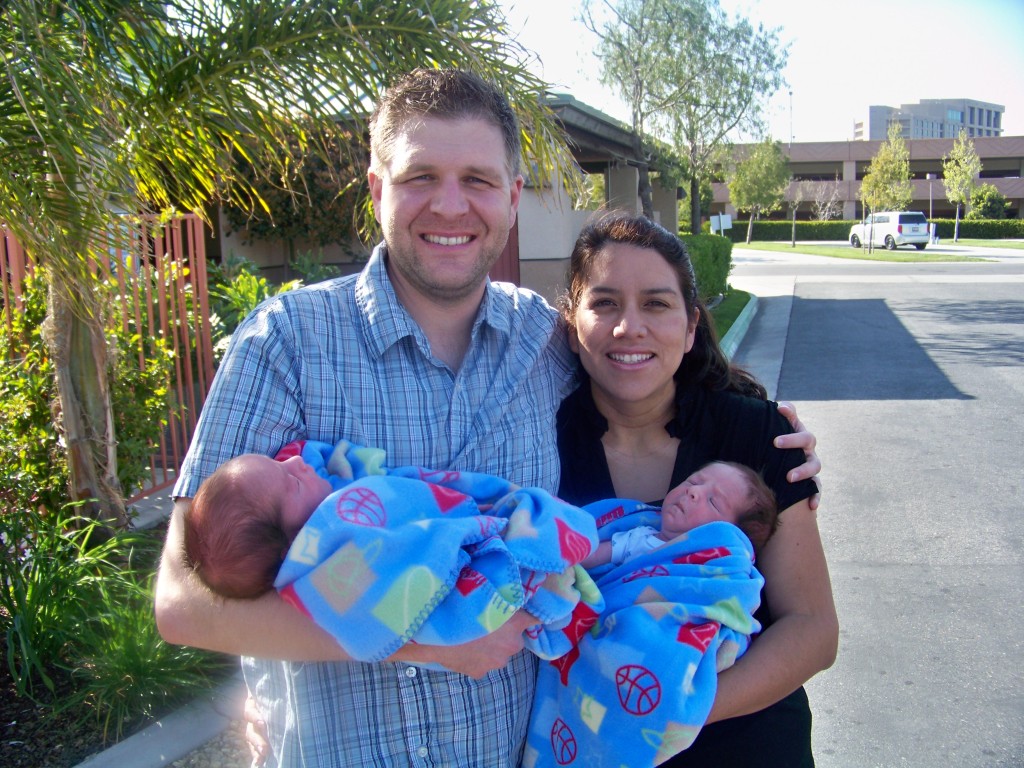 It was Summer 2008 and we had been trying two years to get pregnant with no success. Needless to say, the emotional roller coaster we were on each month to find out if we had succeeded was too much and I was starting to think that maybe we wouldn't be able to get pregnant.  My husband always tried to encourage me and I remember him having such a faith and confidence that God was going to bless us with a baby. His love and constant encouragement helped through my times of doubt and despair.
So we officially stopped trying and it was within one month that we were pregnant.
Without a doubt we were excited to find out that we were expecting. My first reaction to finding out was disbelief and it actually took me a few weeks to really believe it. At our first ultrasound (around 5 weeks) we were so excited to see our baby….notice I said baby(singular). Yes, we were told there was only one baby at that doctor visit.
So you can imagine our shock and utter surprise when the doctor blurted out on our 14 week visit "So, you're having twins?'  My husband and I both looked at each other and we both said "No! no one said we were having twins!" To which the doctor said  "Well there's two babies in here."
I started crying and laughing all at the same time. My husband mumbled something incoherent and then started sliding down the wall of the doctor's office. Yes, it was official we were having twins!
My pregnancy with the boys went very well. I had only one day of morning sickness and the boys ,for being monochorionic twins, grew relatively even the entire pregnancy. The worse thing I probably experienced was terrible itching on my hands and feet…which I'm told is something that happens with pregnant ladies.
Of course I found myself getting very worn out around the 5th month especially if I walked around too much.  Walking became a huge deal for me and right up to the boys being born I remember I could only last about an hour doing any activity on my feet.
Oh, yeah and getting in and out the car was a feat in itself after awhile.
The pic of my huge belly is 5 days before I had the boys. I went into labor at week 38  and though I would have loved to have a vaginal birth, I stopped dilating at 8 cm and it was in the best interest of baby A for us to deliver right away.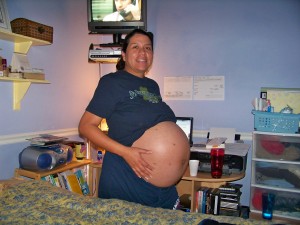 Boys were born at a healthy 6lbs. 5ozs. and 7lbs. 5ozs.  God blessed me with the wonderful and incredible experience of being pregnant with my boys! I am overwhelmed with God's love for me and now these beautiful little boys he has given us. Our Twin Story is only beginning.