Well this Potty Training Chronicle continues….we officially started July 22nd and it's been an interesting few months. Like I mentioned in the previous post I put off training the boys to use the potty due to the language delay they had. I realize now that I was not ready to potty train them last year because I didn't want to deal with the challenge of Potty Training 2 little guys who couldn't communicate with words. Just as it is important to begin potty training when you feel your child is ready, it is also super important for the parents to be ready to invest the time and effort to invest into getting their child potty proficient.
Potty training kiddos with limited or no vocabulary is possible. The most important thing I've learned with my own boys is that their receptive language is on target…they understand what I'm saying to them to a certain degree. How they choose to demonstrate that understanding is dependent on their 4 year old moods. A visual schedule is one of the best ways to teach non-verbal kiddos the basics of potty training. Here is an example of a schedule the boys use at school: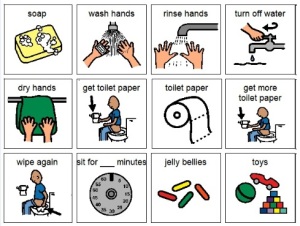 So right now they boys are pretty good at peeing in the potty but we are still having poop accidents in their underwear. I hear from other parents who have kids with special needs and I've been told that this is what they have experienced too.
Right now my plan is to bribe the boys and purchase a special gift that they will only be able to open IF they poop in the potty. I think bribery will work with them or at least I HOPE it will work.
At school Dylan is choosing to hold his pee until I get there to pick him up. Dylan can be pretty stubborn and doesn't always like being told when to do something so I'm not sure how to handle his behavior. You can only hold your pee for so long so there have been numerous days when I pick him up that he's had an "accident" and is wearing his extra clothes I packed.
Thankfully the teachers and aides in Dylan & Caden's Class are used to dealing with kiddos and potty training so they've been super understanding and positive.
So what have been some of your parental tactics in getting your kiddos to poop in the potty? I'd love to hear. Make sure to leave a comment below. Thanks!